Homecrest Outdoor Living doesn't follow trends—we set them. That's why, with over 65 years in business, we're qualified to give you the real skinny on what style directions and trends are going to be big for outdoor living in 2019. We're cutting away nonsense marketing lingo to give you straightforward facts that you can use to directly inform your patio furniture plans.
1

– Being Conversation-Centric
A beautiful outdoor setup is only as good as it is functional. Patio furniture that's designed to make conversation effortless amongst friends and loved ones will always be in. This season, look for modular seating that comes with corner options, like our Allure modular collection. Designs like this focus people inward, towards one another. This creates a sense of cohesion, and also makes conversation easy.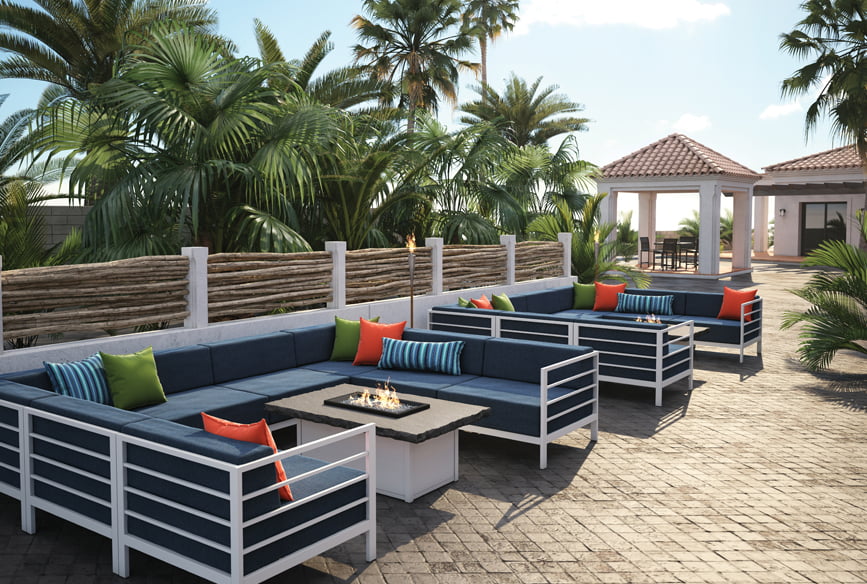 2

– Fire Table Center Pieces
Fire tables have so many benefits that they really are a game-changer. The obvious advantage is that they will keep you warm during cool nights and balmy weather. This lengthens your outdoor season by several months on either side of summer. But, fire tables have many more aesthetic benefits as centerpieces. Fire tables create natural lighting, which has a calming effect. They're evocative of warm times shared around the campfire back in the good ol' days. When you find the right style from Homecrest's extensive collections and colors, you've got yourself a focal point for your outdoor space.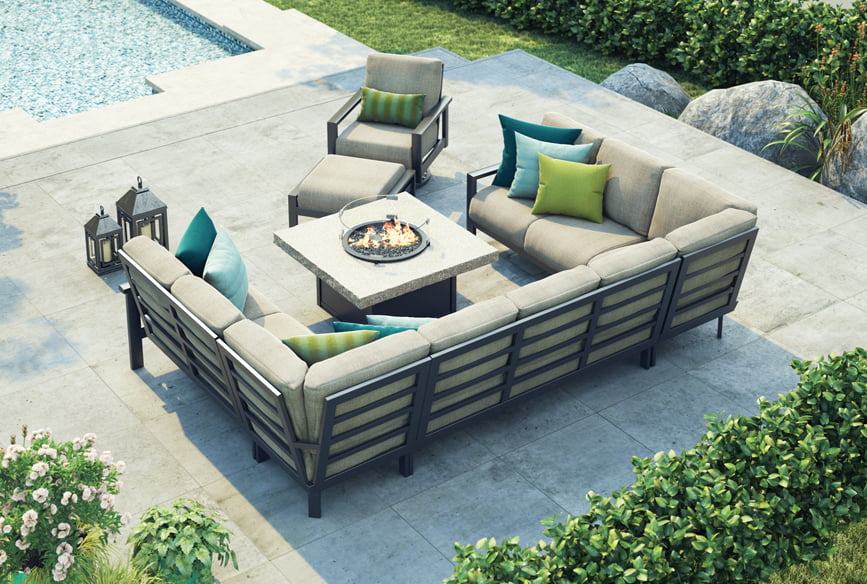 After nearly a full decade of interior and outdoor design moving further and further into clinical, technology-driven products, style is ready to move back in the other direction and breathe a little. Smooth plastics and cold metals are giving way to more rustic-appearing materials. Collections like our Natural Series tables use durable materials that will last in rough weather.  They also create the appearance of natural sandstone, slate, timber, and others.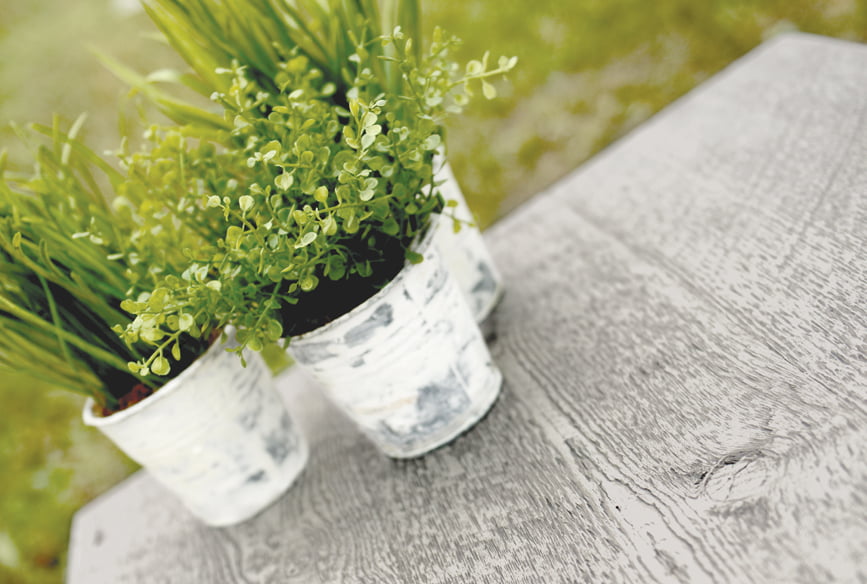 Coupling with the rustic materials trend, frame finishes and seating fabrics for patio furniture are moving towards earth tones. For metal frame finishes, colors like warm browns with undertones of burgundy or olive complement natural-style materials. A great example of this is Homecrest's Cognac finish. Color trends are quite finicky, of course. It is always most important to find a color that you like over what a company tells you that you should like. Homecrest offers a broad range of fabric patterns and frame finishes for this reason.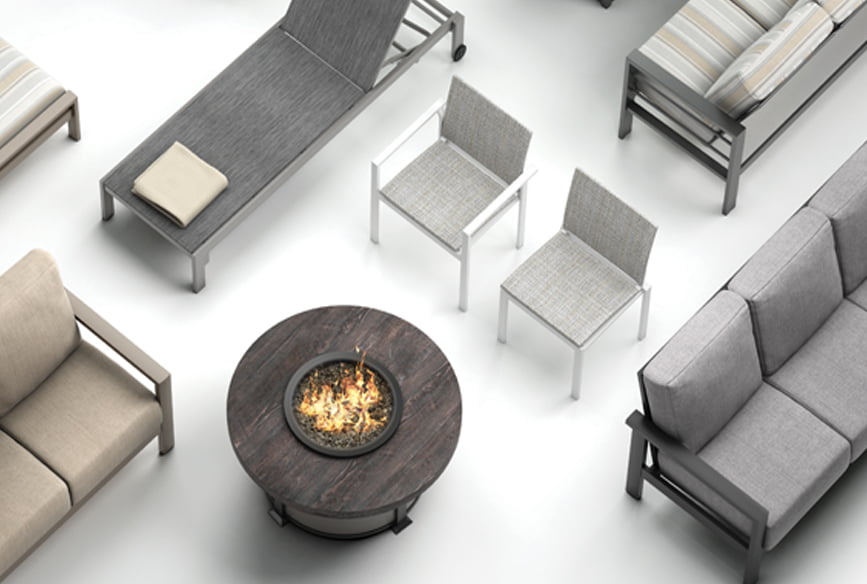 With the trends towards functional, nature-inspired outdoor living styles, patio furniture designs that lean into simplicity are becoming the markers of sophistication. Take a look at Homecrest's Eden series to see this in action. Its slatted, teak-inspired top with rectangular legs give a clean silhouette, possibly inspired by the Scandinavian Design movement. Watch for minimal, quality-made patio furniture styles in 2019.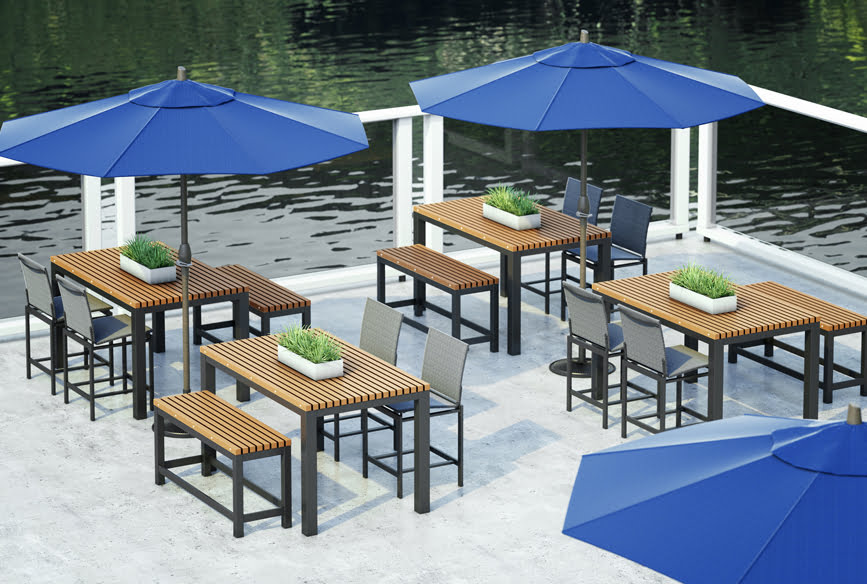 Whether it's a backyard patio or rooftop dining application, Homecrest has the perfect collections to suit your needs.
For homeowners seeking to furnish your outdoor space, visit our residential website to view current collections and find a dealer.
For contract and hospitality projects, visit our commercial website to see your options and find a contract sales representative.