Here at Homecrest Outdoor Living, we pride ourselves in crafting patio furniture in iconic styles. As well as, products that customers keep using for years, sometimes decades, after purchase. For instance, on our Twitter and Instagram, we love to feature images of our vintage sets. These are sent to us by customers who still use the original vintage designs to this day! Here are some tips on how to enjoy your furniture for a lifetime.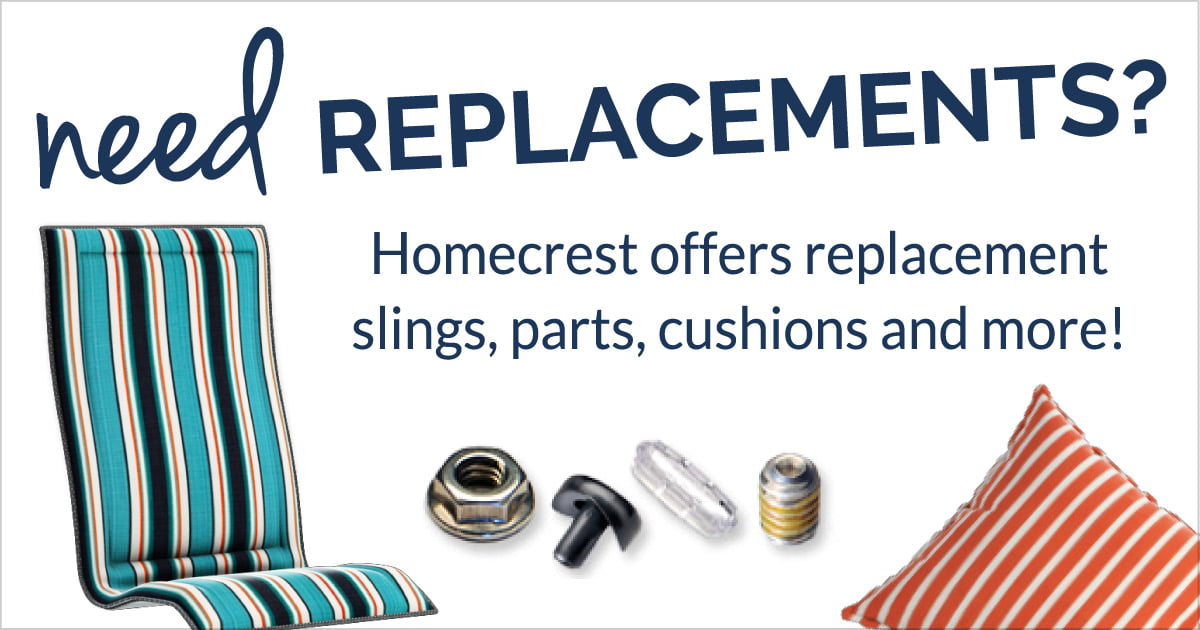 Homecrest makes a robust array of replacement parts and touch-up products to keep up with the enduring quality of our pieces. You can keep your patio furniture looking brand new, no matter how long you've owned it. In this blog, we'll walk you through the process of purchasing replacement parts and answer some frequently asked questions. Keeping your outdoor space looking fresh is a breeze.
The first step in refreshing your Homecrest pieces is to locate a dealer near you. Your local Homecrest dealer can help with any assistance or advice on your mission to purchase new parts. You can use our website's handy Where To Shop tool to do this.

Before you follow the rest of our steps, it may be worth your time to check the "Frequently Ordered" section. This is located on the front page of our online shop. You might find the exact part you're looking for in this list and will be able to order it immediately. Although, If your part isn't in the Frequently Ordered section, that's okay. The rest of the process is designed to help you find exactly what you need to enjoy your furniture for a lifetime.
The next step is to identify what your furniture's model number is. With this, you can easily search for the exact part that you're looking for. The easiest and quickest way to find this information is by locating the manufacturing label that is located on the frame of every Homecrest piece. We've created an instructional video and brief information sheet to make this step as painless as possible. If you have any issues with this step, please consult our Model Identification Guide. This will provide you with clear, additional help in determining what your exact product is.
Lastly, now that you've found your piece's model information, the rest is easy. All you have to do is go to our online shop. Here you type your product information into the search bar and select the replacement part that you need for ordering. It's really that easy! With updates like this as needed your furniture will last a lifetime!
If my glass table top breaks, how do I get it fixed or replaced?
Currently, Homecrest does not offer replacement glass, but you can find a local glass replacement vendor who can cut a new table top for you. We suggest 1⁄4″ tempered glass, similar to the thickness of many Homecrest table tops. It's also a good idea to get several estimates, as prices will vary.
While assembling my new Homecrest furniture, I noticed that a piece was missing. How do I get a replacement piece?
To obtain a replacement piece for your Homecrest furniture in this scenario, contact your dealer as soon as you notice the piece is missing. In most cases, the piece can be found at the dealer location. They may even have a spare.
What do I do if I want to replace my slings/cushions, but my original fabric isn't available?
It's always a great idea to update your look when replacing slings/cushions, but if you only have one or two to replace, you can always choose a complementary fabric to enhance the look of your set.
Is touch-up paint available?
Yes, there are a number of touch-up paints offered. Check with your dealer to see what is currently available.
Can I have my Homecrest furniture refinished?
After a long lifespan, powder coating is a great way to refinish the metal components of your furniture. To find someone in your area who can powder coat your furniture, or for more information, please visit the website of the Powder Coating Institute.
Where can I find complementary pieces for my Homecrest patio set?
Many of Homecrest's collections have complementary pieces, fabrics, and finishes, which makes it easy and fun to add to your collection. Browse our website's different featured collections to find a current series that's perfect for you.
Whether it's a backyard patio or rooftop dining application, Homecrest has the perfect collections to suit your needs.
For homeowners seeking to furnish their outdoor space, visit our residential website to view current collections and find a dealer near you.
For contract and hospitality projects, visit our commercial website to see your options and find a contract sales representative in your area.