Homecrest Outdoor Living's Natural Series Shadow Rock tops bring an elegant statement to any outdoor space. Additionally, our beautifully textured Shadow Rock style comes in three subtle earth tones: Pebble, Boulder, and Midnight.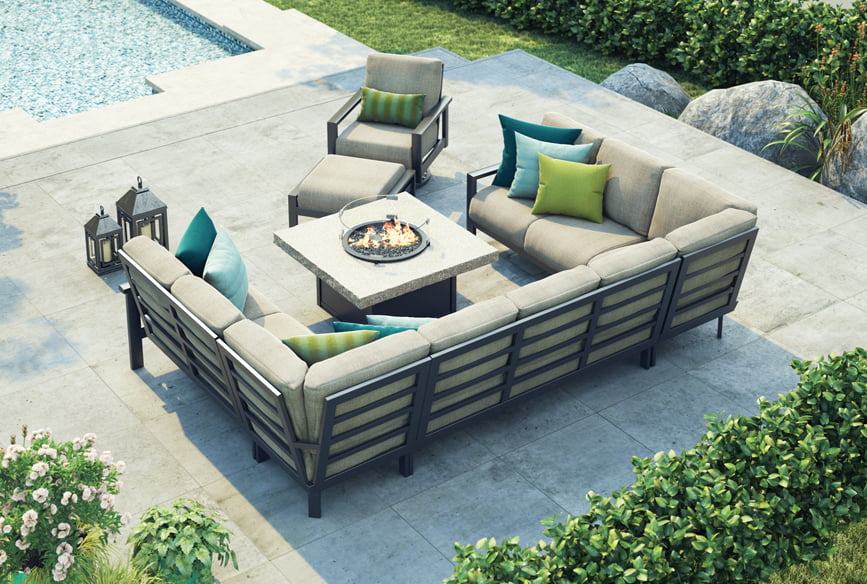 Our Shadow Rock tables and fire pits come in a variety of sizes, heights, and designs. This allows you to style your entire outdoor space exactly how you want. Homecrest fire tables offer a powerful burner, up to 60,000 BTUs. Additionally, they come standard with your choice of fire jewelry, as well as a secure key. Other features include a natural gas orifice and black 3/4″ aluminum fire burner riser. These versatile Shadow Rock tops feature top-quality, American-made components. You will be sure to enjoy them for years to come.
Whether it's a backyard patio or rooftop dining application, Homecrest has the perfect collections to suit your needs.
For homeowners seeking to furnish their outdoor space, visit our residential website to view current collections and find a dealer near you.
For contract and hospitality projects, visit our commercial website to see your options and find a contract sales representative in your area.