One of the great things about Homecrest Outdoor Living furniture is that it's designed to last for years and perform in any environment. Our products owe this in part to being easily cleanable with antimicrobial features. While these are great features in any scenario, it makes our stylish furniture an excellent option for handling the COVID-19 pandemic responsibly.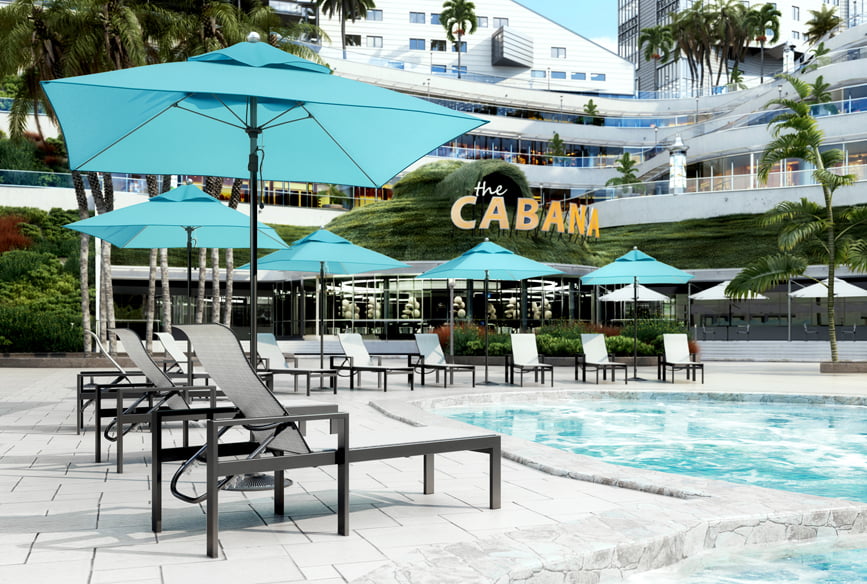 Homecrest's antimicrobial design starts with our fabric. All of our fabric types are bleachable with the use of a safe bleach cleaning solution. But, our antimicrobial features go further than that for our most popular fabric types.
For one, our double-layer sling seating is known for its high level of comfort. Additionally, the double-layer sling is constructed of antimicrobial-rated, Microban-infused material. And of course, these slings can also be safely bleached without harming their appearance or integrity. Our sling seating naturally prevents the lingering and transmission of dirt and germs. They can also easily be cleaned between uses for added protection.

Our Ultraleather fabrics are also antimicrobial rated (using EPA-registered measurement systems) and bleachable. One of the biggest appeals of this type of fabric is that it is non-porous, and therefore straightforward to clean. We recommend using standard, alcohol-based disinfectants. These qualities have made Ultraleather a favorite of healthcare industries.
DreamCore™ and UltraCore™
Beyond fabrics, we also have added protections for all of our cushioned seating. With our DreamCore™ and UltraCore™ cushions, we include a ticking fabric underlayment beneath the product's exterior. This underlayment prevents transmission of any foreign materials or fluids into the cushion foam. This ensures that cleaning the outer layer of fabric is all the maintenance needed in order to keep our cushioned products hygienic.

Finally, we finish our aluminum frames with a special powder-coating paint. Besides creating an even layer of color, this process makes our frames completely non-porous. Additionally, our powder-coated aluminum frames can be effectively wiped and bleached clean. This is in contrast to other materials used in the outdoor furniture industry, such as wood or natural fibers
Click here to learn how to most effectively care for and clean our Homecrest products. Additionally, learn how to safely sanitize them with a bleach solution.
All of these different strategies combine to make Homecrest Outdoor Living products the smart choice for hygiene and safety, during COVID-19 and beyond.
Whether it's a backyard patio or rooftop dining application, Homecrest has the perfect collections to suit your needs.
For homeowners seeking to furnish their outdoor space, visit our residential website to view current collections and find a dealer near you.
For contract and hospitality projects, visit our commercial website to see your options and find a contract sales representative in your area.