The Pantone Color Institute has just released their colors of the year for 2021: "Illuminating" yellow and "Ultimate Gray." These two colors offer very different views on the coming year. For instance, Illuminating is just as invigorating as Ultimate Gray is stoic. Apart, the colors of the year couldn't be more different; together, they tell a color story of spirit and resilience. Homecrest Outdoor Living has taken this color of the year combination as a cue to get creative. We're pleased to introduce a fully curated color palette of fabrics and finishes based off of Pantone's picks. We hope that our 2021 color story will inspire designers and homeowners alike, helping them create outdoor spaces with a refreshing sense of style.
New Year, New Color Story
Our Glacier frame finish is the base for our new color story and is accented by our Titan and Carbon frame finishes. Firstly, starting with white or these other wash colors for the frame creates a clean canvas on which to paint our color story. Our Glacier finish offers continuity with the gray, and also pushes the lively yellow to the forefront of the palette.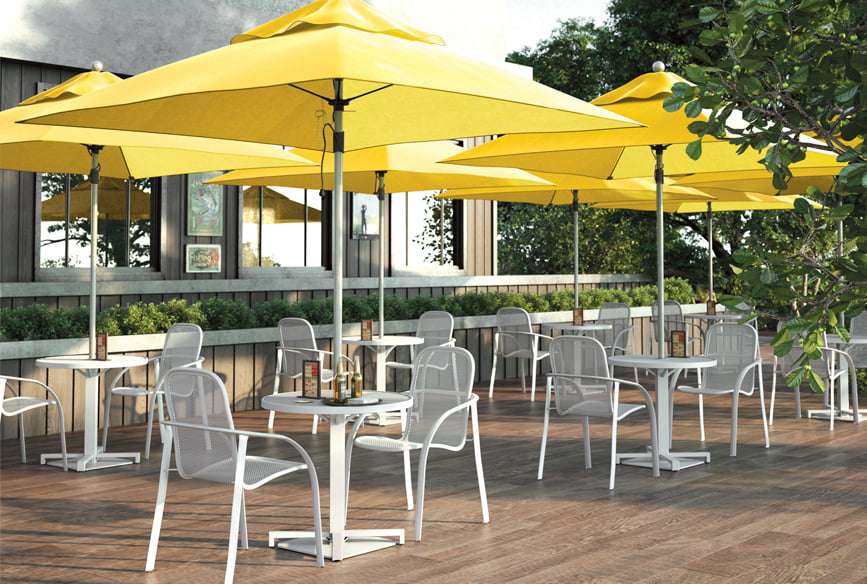 Next comes a nuanced selection of gray fabrics, which add texture to the scene. Our Kozo slingable fabric introduces the gray motif in a subtle, stratified pattern. Building on this is Cameo II, also from our slingable collection. This most truly represents the essence of Pantone's Ultimate Gray. To illustrate, Cameo II offers feelings of order and calm with its cool, uniform hue.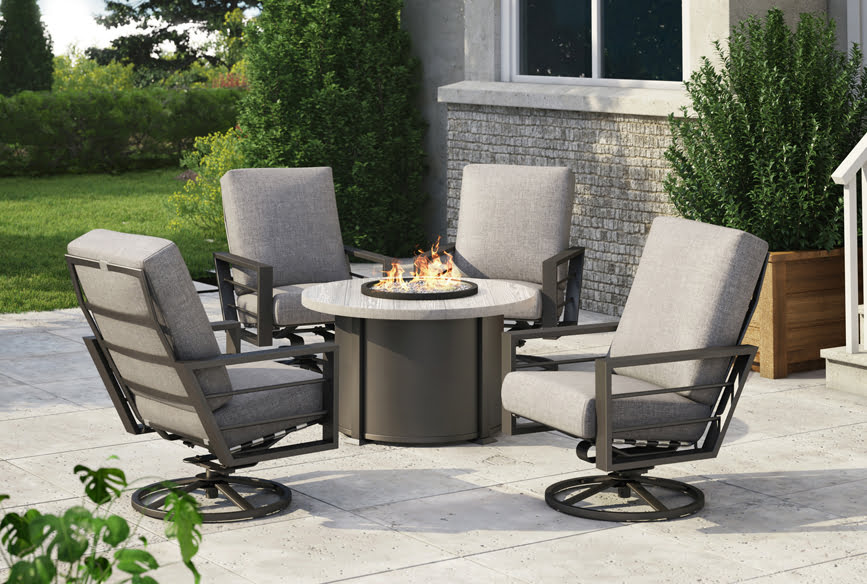 We add visual intrigue to our Pantone-inspired color story with two auxiliary accent fabrics: Calm Graphite and Onyx. Firstly, Calm Graphite, from Sunbrella Balance, enhances the gray-on-white texturing of Kozo. In Calm Graphite, the seeds planted by the latter fabric have grown into organic leaf shapes, elegant as silver. Secondly, the boldness of the pure black Onyx, from our own Homecrest fabrics, adds an edge to the full-color palette. This is just enough to bring the perspective of this color story into focus without overpowering the other colors.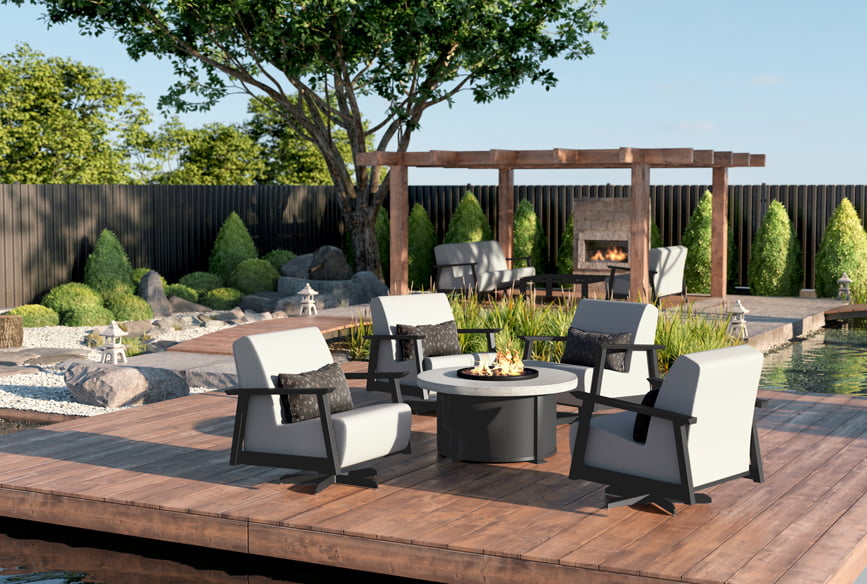 All these colors and patterns bring something vital to the palette on their own. However, the main attraction of this color-of-the-year palette is resoundingly our Canvas Buttercup fabric from Sunbrella Elements. This shade of yellow is the perfect balance between bright and serene, energetic and reassuring. Meanwhile, Canvas Buttercup is what pushes the palette to its full potential. It is Canvas' interplay with the more subdued style of the other fabrics that captures the original feeling of Pantone's colors of the year.
In this way, our color story is the sun shining through birch branches on a crisp winter morning. It is a reminder that there is beauty in even the coldest of days. It reminds us that bright rays of sunlight will always break through storm clouds and fill the world with color.
Whether it's a backyard patio or rooftop dining application, Homecrest has the perfect collections to suit your needs.
For homeowners seeking to furnish their outdoor space, visit our residential website to view current collections and find a dealer near you.
For contract and hospitality projects, visit our commercial website to see your options and find a contract sales representative in your area.