Homecrest Outdoor Living has been a leader in outdoor patio trends since the company's inception in 1953. As a frontrunner in the best in luxury furniture, Homecrest has identified five key patio trends in 2017.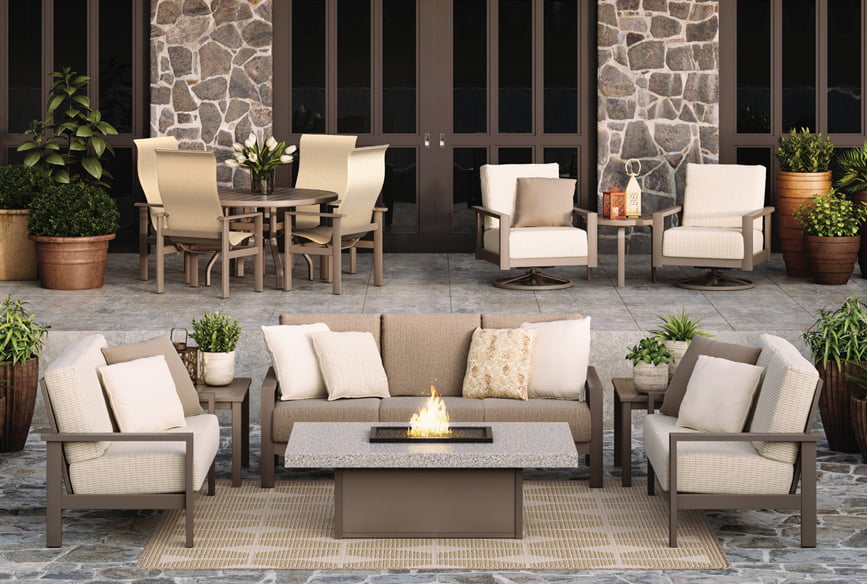 As technologies and trends continue to develop and evolve, more and more patios are mirroring homeowners' indoor living areas. These days, weather-resistant materials make it possible to have cozy, cushioned furniture in all sorts of styles, sizes, and configurations that can be left outside year-round. Whether looking for a serene retreat with earth-inspired styling, elegant sectionals for hosting, or traditional environments for family relaxation, the design options are endless.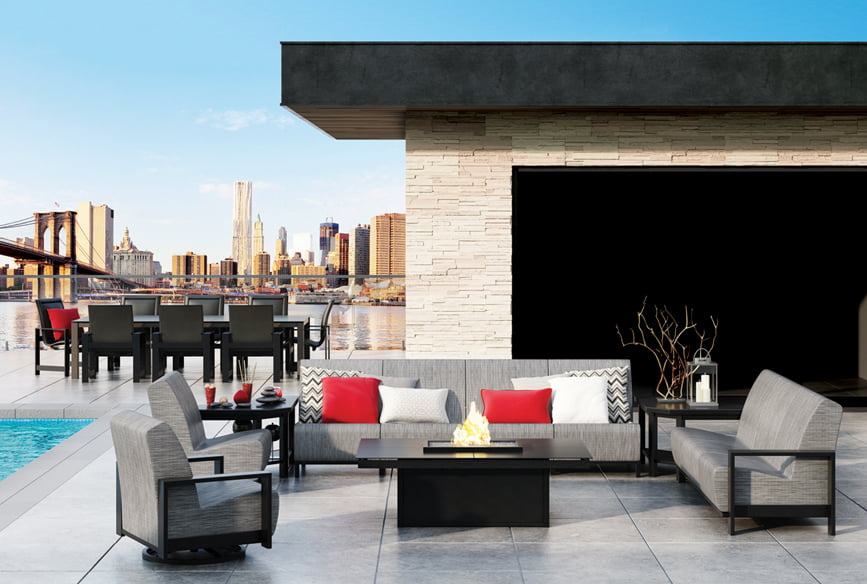 Going hand in hand with the deep seating trend, outdoor fire tables are becoming a mainstay of the outdoor living experience. In fact, these tables often function as the focal point of the area and are the place where people naturally congregate.
Fire tables come in all shapes, sizes, heights, and surface options. Most common right now are models that are fuelled by propane or natural gas. However, upper-end models feature burners that outperform your barbecue! In everything from metals to engineered composites, if you can dream it, chances are you'll be able to find it!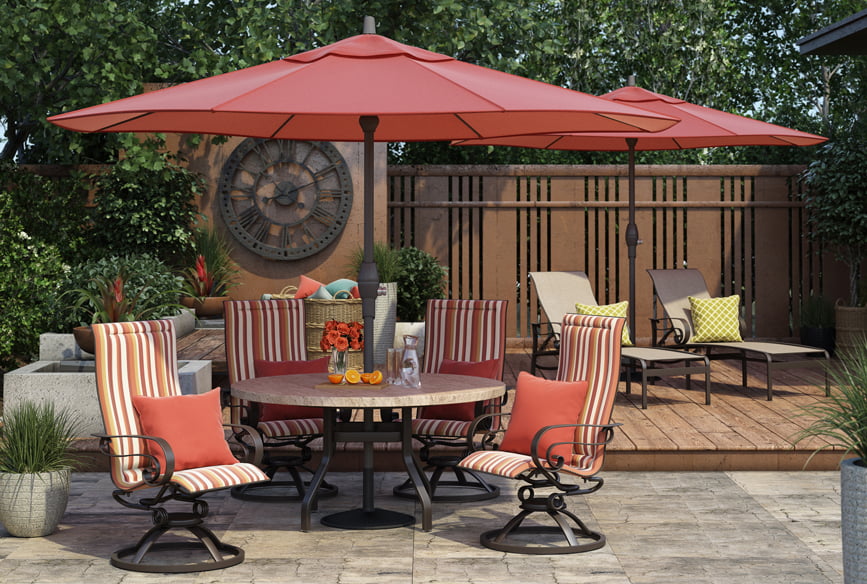 The outdoor living experience really began around the dining table. Just about anyone who owns any patio furniture includes an area to dine al fresco in their outdoor living spaces.
Art imitates nature, and in table design, styling is going au naturel. Over the last 20 years, the science behind outdoor table composites has made incredible gains. Firstly, allowing furniture manufacturers to produce natural-looking tables that are incredibly realistic. Secondly, while also having the strength and weather-resistant characteristics of sophisticated, manufactured composites. These tables are often referred to as "faux-stone." They are amazingly fade and scratch-resistant and can stand against variations in outdoor temperature. Dining table styles can range from hammered metals to distressed wood to granites to artisanal tiled stone. In shapes and heights that range from small end tables for a cozy vignette to enormous dining settings for twelve.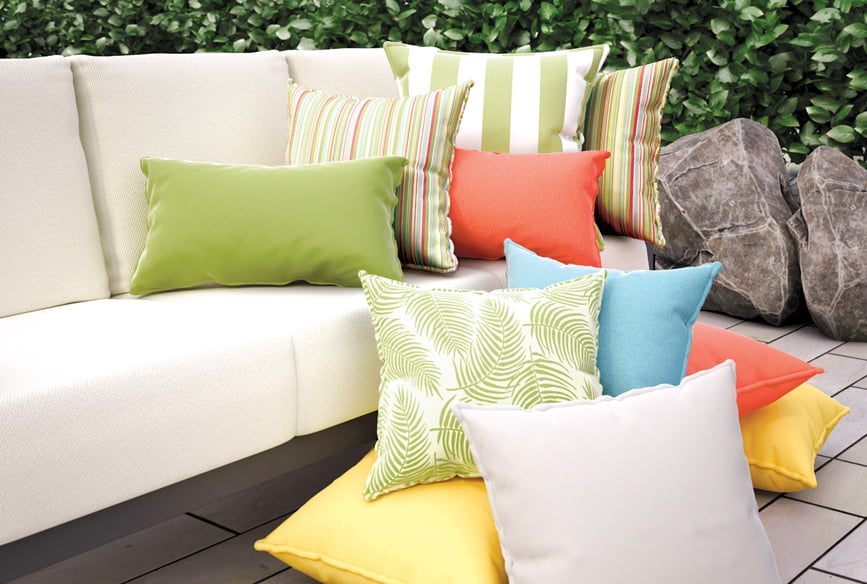 Personal touches and accessories are what often bring character and personality to our outdoor environment. For instance, outdoor accessories like umbrellas and toss pillows are always a great step to provide a splash of color and fun. With new technologies, it is now possible to find great weather-resistant accessories that are perfectly at home in outdoor environments. From outdoor art and rugs to beautiful lighting and sculptures. The pieces we love that help bring our outdoor spaces to life are now available with incredible weather-resistance characteristics. In short, this allows us to complete our outdoor spaces exactly as we like without worrying about leaving our favorite pieces outside.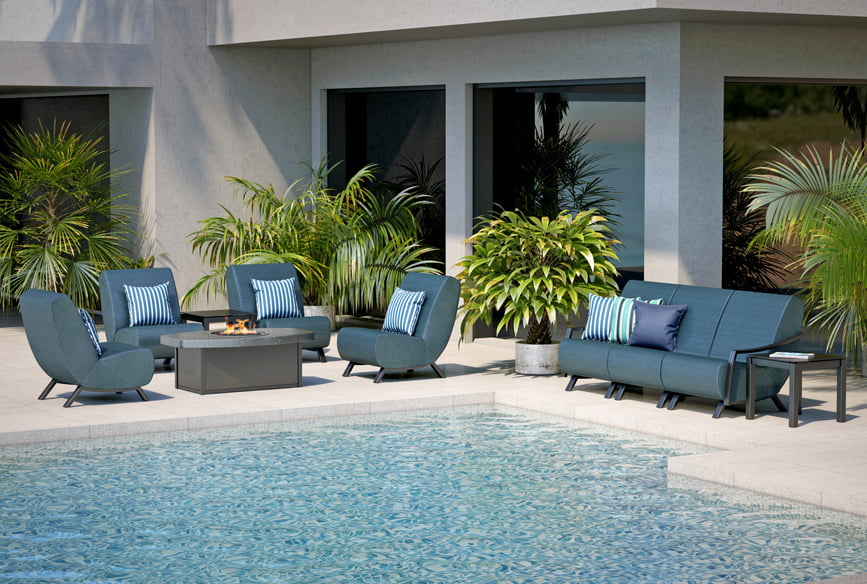 Air products are one of 2017's newer patio trends! Homecrest's Air products include Grace Air, Elements Air and Airo2, which are low-maintenance, cushionless seating collections with the appearance and look of a deep seating chair.
Whether it's a backyard patio or rooftop dining application, Homecrest has the perfect collections to suit your needs.
For homeowners seeking to furnish their outdoor space, visit our residential website to view current collections and find a dealer near you.
For contract and hospitality projects, visit our commercial website to see your options and find a contract sales representative in your area.