Energizing and relaxing are just a couple words that come to mind when you walk into this functional and beautiful outdoor space. Homecrest Outdoor Living is proud to have been selected to provide outdoor furniture for SailPoint Technologies.  Based in Austin, TX, SailPoint deals with identity governance solutions and software. In other words, SailPoint provides software to help organizations manage who has permission to access their information. In today's world, online security breaches and hacking are a daily nuisance for businesses and individuals alike. SailPoint provides the necessary protection for our increasingly digitalized world.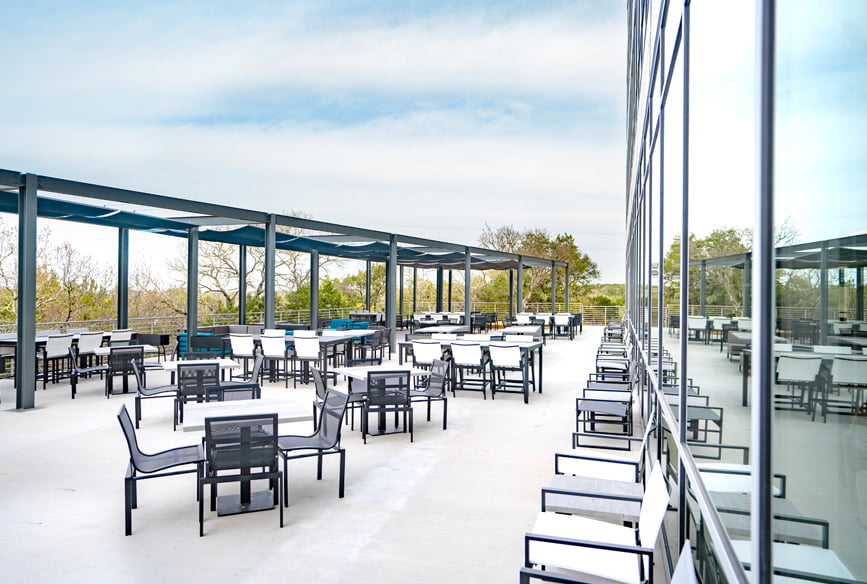 Since their beginning in 2005, SailPoint Technologies has grown exponentially. They have multiple offices and clients located around the globe, so their headquarters requires a large outdoor space for employee breaks, community events, team announcements, and more. They were looking to furnish this space with products that created a relaxing environment. Homecrest's innovative design fit the bill. In addition to the appearance of our products, project managers for SailPoint were drawn by the price point for our high-quality and durable furniture. Homecrest not only matched the mood they were attempting to create, but also fit the budget and timeline in which they wanted to accomplish this project.
From mesh to modular, this project was primarily furnished with Allure. The Allure collection from Homecrest boasts strong and durable aluminum frames with modern, clean lines. The all-weather cushions of Allure's modular line provide the perfect spot to unwind and take a break from the demands of the office. Whether chatting with coworkers or enjoying time alone, Allure modular creates a place for relaxation. Mesh and sling seating from Allure were used throughout the rest of the outdoor space. Positioned at tables with Timber tops, these seats provide comfortable yet functional areas for groups to converse and dine. Additionally, Homecrest provided tables from the Dockside collection. The all-aluminum construction of Dockside tables makes them particularly durable. Meanwhile, the clean lines add an air of sophistication to any space.
Timber table tops were used to contrast the sleek and contemporary look of Allure and Dockside. Each table top from the Timber collection is individually handcrafted and cast from reclaimed wood to create a realistic appearance. Additionally, all of our Natural Series collections are formed with durable materials that can withstand unpredictable weather.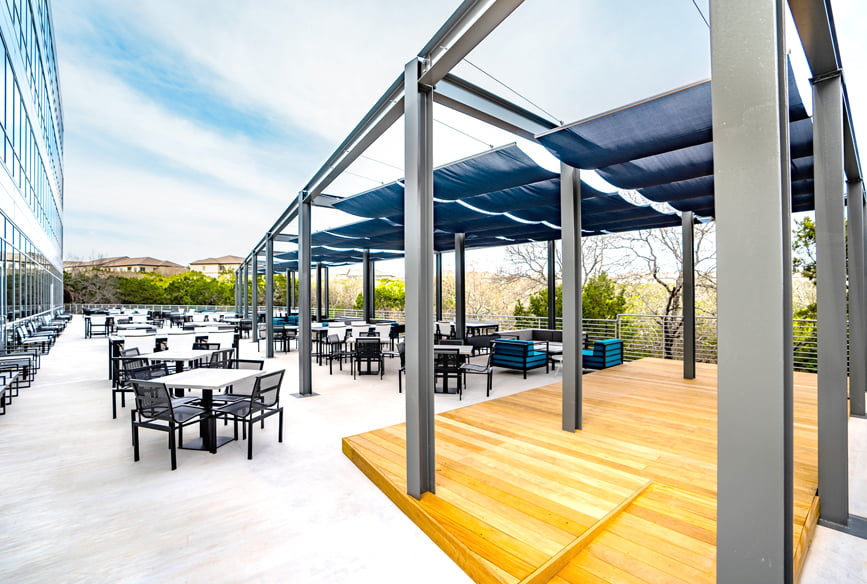 Homecrest was able to show what we are truly capable of through this project. It provides exposure for us to any affiliates and vendors who visit SailPoint Technologies, as well as the Austin community as a whole.
"This project with SailPoint is a very high-profile project," said Homecrest sales representative Sandy Sanguily. "We receive compliments from visiting parties on the 'outdoor stuff' frequently."
Our products were within the vision and the budget for SailPoint Technologies. Additionally, we were able to meet a tight project deadline and provide excellent customer service to ensure their satisfaction. Finally, we offered a superior factory warranty for our high-quality, commercial-grade furniture. In short, this was a large factor in securing the deal. We are excited to see where this new exposure takes us next, and we're looking forward to even bigger projects in the future!
Check out this drone footage of the finished space!
Learn more about Sailpoint's project in this article from the Austin Business Journal, and this video from CORE Office Interiors, the dealer for this project.
Whether it's a backyard patio or rooftop dining application, Homecrest has the perfect collections to suit your needs.
For homeowners seeking to furnish your outdoor space, visit our residential website to view current collections and find a dealer.
For contract and hospitality projects, visit our commercial website to see your options and find a contract sales representative.