Homecrest Outdoor Living is excited to announce another industry first. The new 5 year residential warranty on the infamous double layer sling. Homecrest's patented sling and padded sling designs have been the industry's most comfortable and durable sling products for decades. Customers can enjoy the longest consumer warranty protection of any sling or padded sling on the market.
Homecrest is a company of firsts. For instance, the launch of the industry's first adjustable swivel rocker to the creation of Dreamcore™ cushion designs. These are all designed to last for decades of enjoyment. Homecrest builds on the craftsmanship and work ethic of our rural Minnesota community. For instance, we are proud to manufacture award-winning designs in America. Meanwhile, supporting quality workmanship with the industry's most comprehensive product warranty.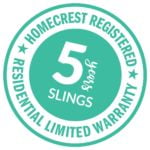 Whether it's a backyard patio or rooftop dining application, Homecrest has the perfect collections to suit your needs.
For homeowners seeking to furnish their outdoor space, visit our residential website to view current collections and find a dealer near you.
For contract and hospitality projects, visit our commercial website to see your options and find a contract sales representative in your area.