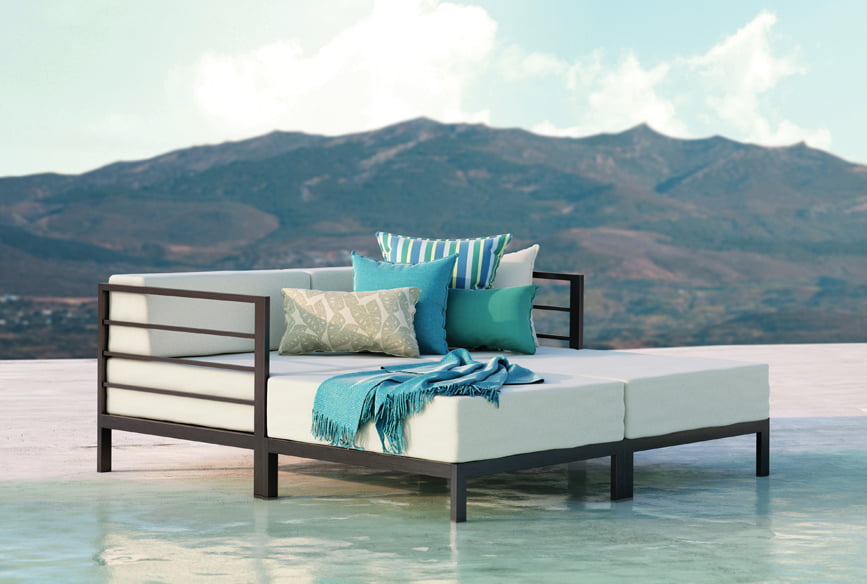 Read below to learn more about our newest pieces!
For 2018, we have expanded our fire table offerings including new heights, top finishes and sizes, and frame finishes. We're also offering our first ever micro fire table base, Nova. Additionally, to build on the popularity of our deep seating pieces, we are excited to unveil two new collections, Allure and Sutton. Both collections feature our luxurious all-weather cushions. Allure and Sutton also offer dining and occasional seating, featuring our durable slings. Building upon our reputation for comfort and quality, we introduce two new double layer sling collections, Harbor and Stella. Both collections feature our industry-first swivel rocker in both dining and balcony heights. Additionally, new table sizes and heights, frame and top finishes, and expanded Duo-Tone options are just the beginning of our growing table offerings. Lastly, for 2018, we are launching an all-new top finish, Shadow Rock. This features the look and feel of natural stone in a durable, low-maintenance finish.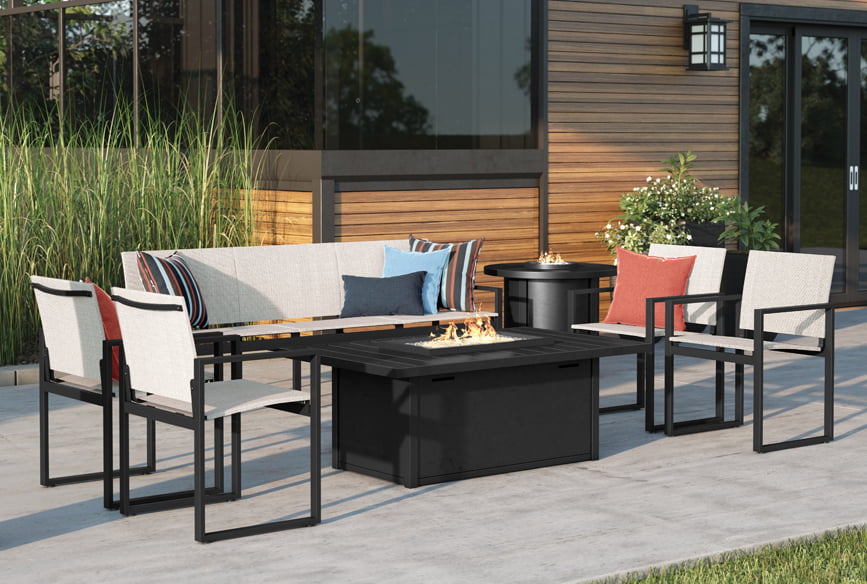 With the all-new Allure sling collection's modern, clean lines, the strength and durability of aluminum are perfectly met with the comfort of a premium-quality sling. It's easy to fall in love with the comfort and ease of Homecrest's famous slings. The quick-drying dining chairs are available with and without arms for additional convenience when an extra guest arrives. Additionally, the extra-wide lounge chair is perfect for curling up with your morning coffee. Whether you are trying to catch sun or shade, the wheeled chaise will make every day feel like a vacation.
Building on the popularity of our Breeze table line, we are happy to present the Breeze fire table. Available in a variety of sizes, this fire table allows you to enjoy the beauty of open flame without the mess and hassle of a traditional fire pit.
Lastly, our brand-new Nova fire table is available in several top and frame finishes in a 30-inch round and 36-inch round chat height. This micro fire table tucks beautifully into small spaces bringing warmth and an enchanting glow.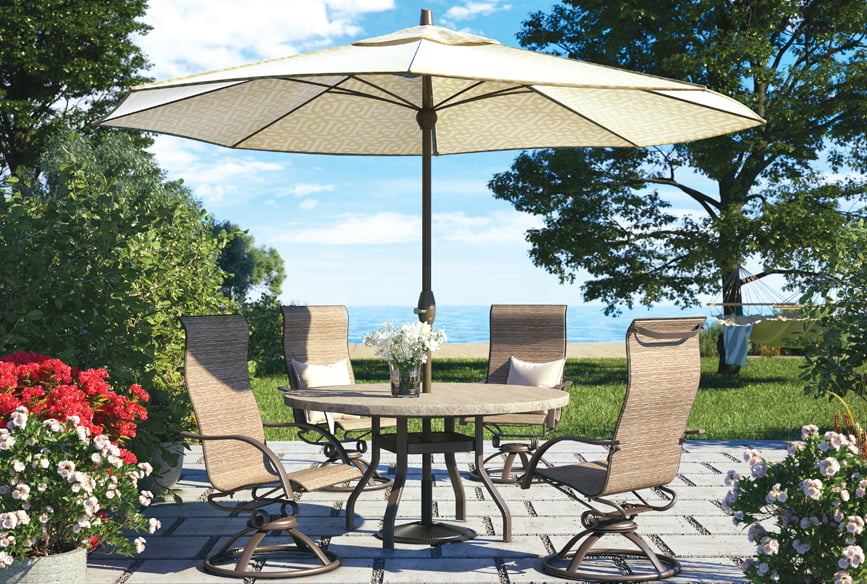 With outstanding comfort and classic styling, Homecrest is proud to introduce the Stella collection. Featuring elegantly sloped armrests, the Stella collection includes a swivel rocker in both dining and balcony heights. Plus an all-purpose dining chair. All offering the ease of a sling with a durable aluminum frame. Flexible and easy to care for, this collection will instantly spruce up spaces of all sizes and styles.
The attractive and functional Breeze tables feature all aluminum construction in a variety of heights and sizes. These are well-suited to both dining and deep seating applications. As a welcome addition to any outdoor space, Homecrest's Slate table tops feature a rustic elegance that could only be inspired by nature. Cast from the pattern and texture of natural slate and produced using industry-leading technology, Homecrest Slate table tops are as beautifully authentic in appearance as they are tough and enduring. These tops, available in four colors, are a favorite on decks and patios across the country and mix seamlessly with pieces from our seating collections.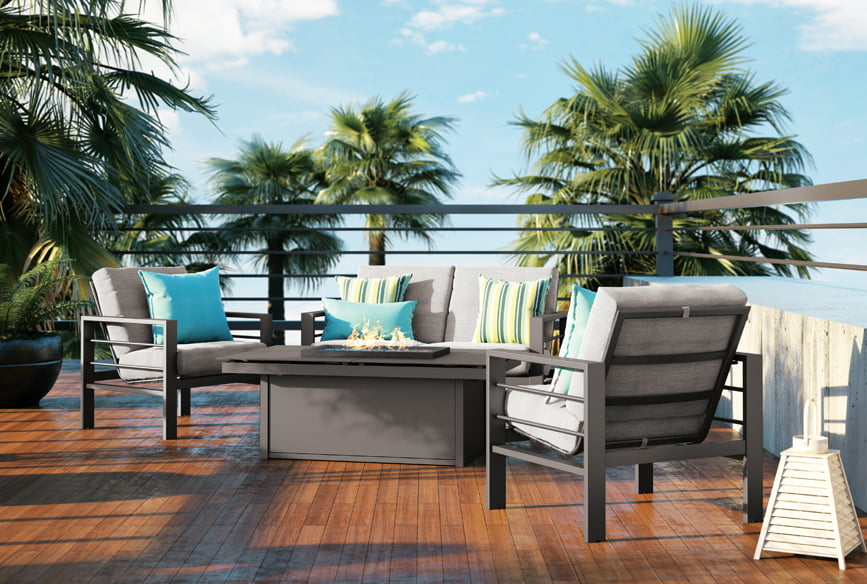 Plush, all-weather UltraCore back and seat cushions, strong lines, and oversized frames are just the beginning of the story that describes Homecrest's new Sutton cushion collection. Creating an outdoor living room is easy with Sutton's bold shapes. Firstly. gentle sloping backs promote restful lounging. Secondly, our plush cushions hug your body with softness and support. In conclusion, the innovative design of the Sutton collection strikes a modern pose from every angle.
If you love the sophisticated Mode table collection, you'll love our Mode fire pits. Along with all of the standard luxury features, Mode features a floating aluminum rectangular top. Available in 19-inch coffee and 24.5-inch chat table heights with a powerful 60,000 BTU burner. The amazing heat will extend your outdoor season. In short, Mode's contemporary design creates an atmosphere of relaxation and conversation. Customize your Mode fire pit by selecting any Homecrest frame finish for your base and top. Mirror design elements of your outdoor space by selecting from a wide variety of reflective fire jewelry.
Finally, Homecrest's 2018 catalog features a reorganized table and fire pit section based on the tabletop. For easy, well-integrated browsing as well as expanded information on laying out seating groups including outdoor essentials. We hope these additional infographics will aid vendors and consumers in choosing cohesive dining and seating groupings.
Whether it's a backyard patio or rooftop dining application, Homecrest has the perfect collections to suit your needs.
For homeowners seeking to furnish their outdoor space, visit our residential website to view current collections and find a dealer near you.
For contract and hospitality projects, visit our commercial website to see your options and find a contract sales representative in your area.