Your copy of the 2019 Homecrest catalog is your one-stop shop for everything outdoor living. This catalog contains valuable information to help you plan what products your outdoor living space will need. Meanwhile, style, luxury, and comfort options are right at your fingertips!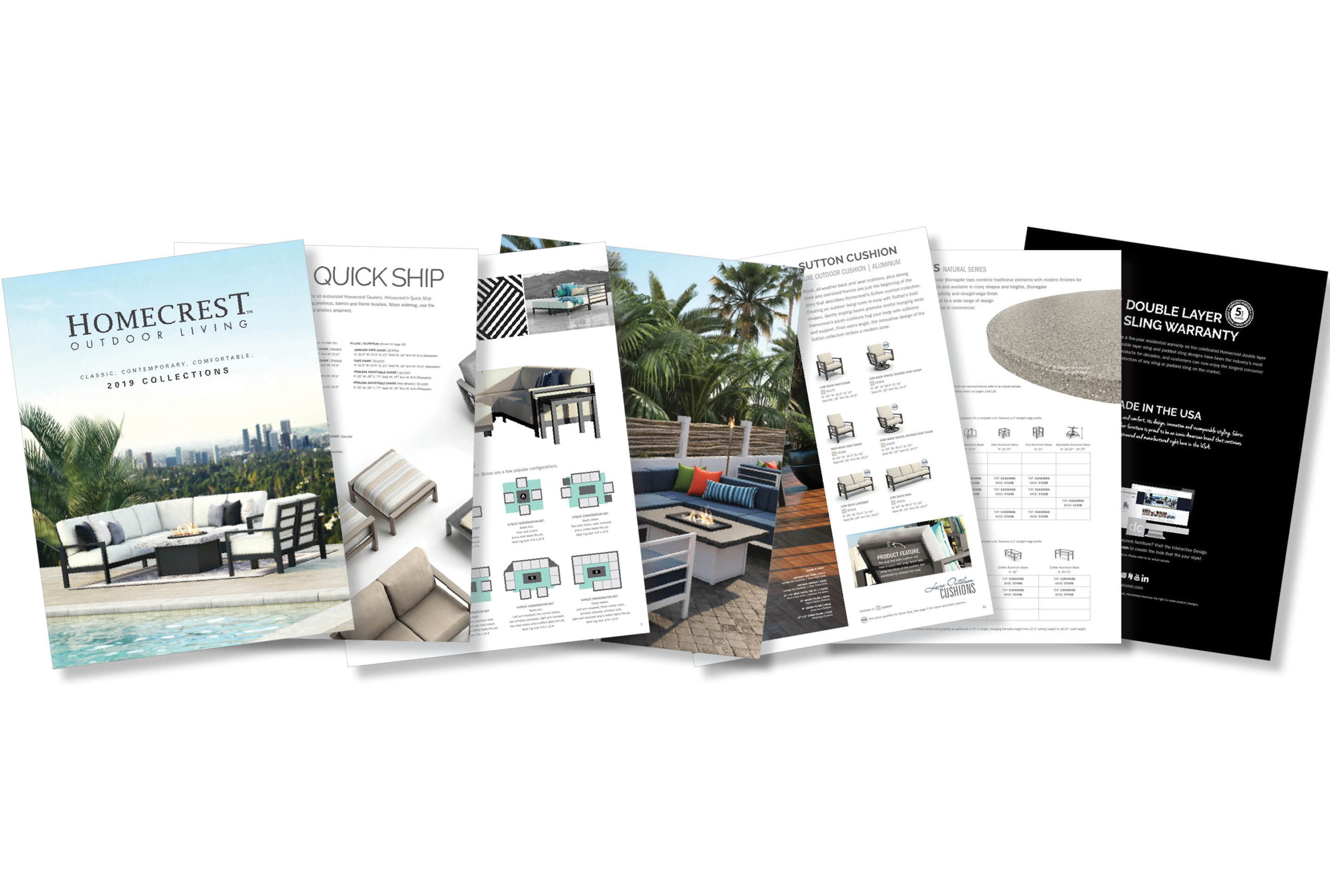 The first page of the Homecrest catalog consists of a table of contents to help you find specific products. This is a great place to start when you need any question answered.

To get started with content, the first are pages 4-21. You'll find the Quick Ship program, as well as quick guides for the basics of Homecrest furniture. These include how to place orders, what seating setups are the most visually appealing, and valuable information on the benefits and features of Homecrest's products.

Next, pages 22-77 feature all of Homecrest's sling, cushion, and metal seating collections. Pages 78-137 showcase Homecrest's extensive line of table and fire table collections. Pages 138-149 highlight Homecrest's sling fabrics and frame finishes. This section also highlights Ultraleather, Sunbrella Elements, Makers, Pure, and Outdura Ovation II padded sling and cushion fabrics. These three sections are vital for customers who want to fully customize their furniture and products.
Lastly, pages 158-163 have important information about warranties, replacements, and Homecrest History. Everything you need to give your outdoor space a fresh look is in the Homecrest 2019 catalog. Happy shopping!
Whether it's a backyard patio or rooftop dining application, Homecrest has the perfect collections to suit your needs.
For homeowners seeking to furnish your outdoor space, visit our residential website to view current collections and find a dealer.
For contract and hospitality projects, visit our commercial website to see your options and find a contract sales representative.