Almost all of us know someone who has had the experience of leaving patio cushions outside in a rainstorm. The problem is, a few days after the rain…they're still not dry. They're smelly and just overall gross. These types of patio furniture struggle because they tend to be made of cheap foam that was never intended to get wet in the first place.  it's only a matter of time before that flowery cushion begins to look like a science project, ruining your outdoor space. Thankfully, when you buy patio furniture from Homecrest, you can say goodbye to the soggy cushion problem for good. With Homecrest, you'll find many great options for outdoor cushion comfort seating that both look stylish and dry incredibly fast. This is because our cushions have inner and outer materials designed for 100% moisture drainage.
The Secret to Water-Resistance
A staple for cushions in the high-end outdoor furniture market like Homecrest's is something called polyester fiberfill. This is sometimes referred to by the original brand name "Dacron Hollofil." Dacron is often used on its own in slimmer cushions like dining chairs and chaise lounge cushions. You can also find it in larger cushions as the top inner surface material. It's a 100% man-made, non-porous material that physically cannot retain moisture of any kind. This means it dries extremely fast and prevents the growth of mold and mildew!
Homecrest also combines water resistance with comfort in our cushions that use high-grade interior foams, which provides a luxurious cushion comfort seating experience. These cushions are a dream to sit in. Plus, their water-resistant, breathable membrane protects them from rain.  This membrane sits underneath the outer fabric. This way, only the exterior material gets wet in a downpour and the cushion itself remains dry.
If you come from an area with an extremely wet climate and are still concerned about the drying capabilities of Homecrest cushions, we have the perfect seating material for you. Our new Grace Air and Elements Air series have the look and comfort of deep-seating cushions but are made without foam entirely. These collections use an empty box design, which means they have a frame surrounded by our comfortable Sensation sling fabric. This means they look and feel nearly identical to cushioned seats. However, when rough weather comes by and these pieces of patio furniture get caught in it, the rain simply flows through the fabric. It is much like an empty box—straight in from the top and out the bottom. This way, the dry time for these "cushions" is only as long as it takes to dry one layer of fabric.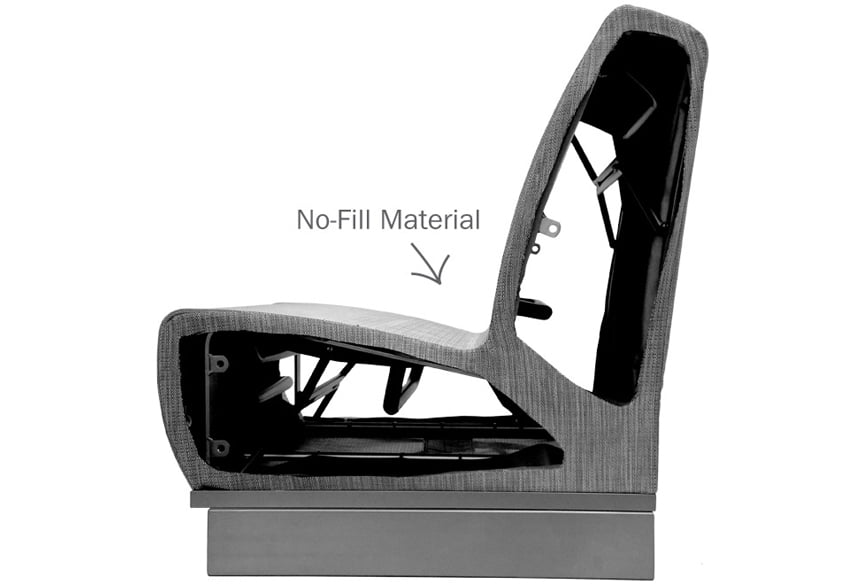 Nobody likes having to take their cushions in every time it gets a little cloudy. With Homecrest, you'll never have to worry about soggy cushions again. All of the materials we use dry in about two hours or less in normal drying conditions. They simply will not retain moisture of any kind. Even with an afternoon shower, your furniture will be in top form for entertaining by that night! Buying from us means that you can choose whatever style of furniture you want, cushioned or non-cushioned, no matter what weather you live in.
Whether it's a backyard patio or rooftop dining application, Homecrest has the perfect collections to suit your needs.
For homeowners seeking to furnish your outdoor space, visit our residential website to view current collections and find a dealer.
For contract and hospitality projects, visit our commercial website to see your options and find a contract sales representative.