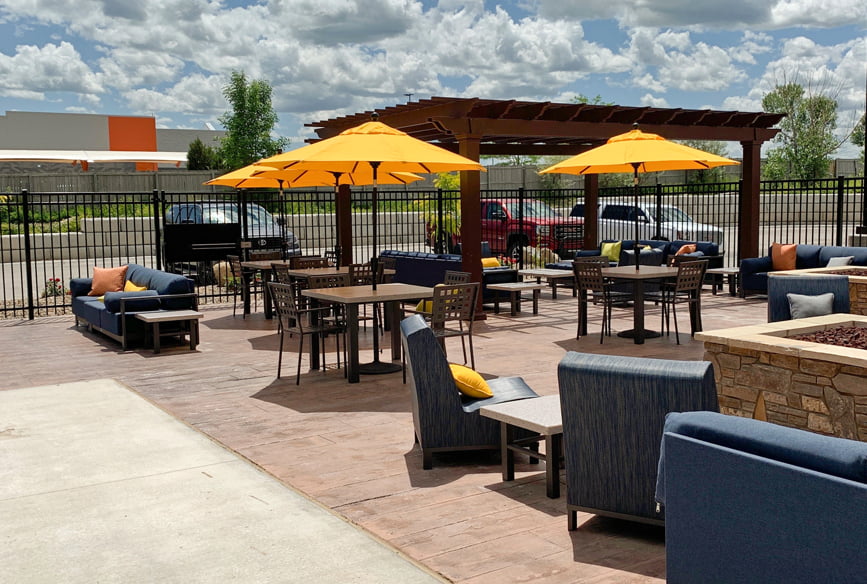 Rapid City, South Dakota, is nestled among stunning national parks and historic sites. It's this location and rich culture that makes the city an unforgettable tourist destination. Because of this, Tru by Hilton set out to establish a new hotel in the city to provide exceptional accommodation to countless travelers. Since Tru by Hilton endeavors to set itself apart from typical hotels, this new location includes two expansive outdoor patio areas for guests to lounge in.
Homecrest Outdoor Living became involved with furnishing the new Tru's outdoor space through local development company, ChrisBro Hospitality. ChrisBro owns and operates the completed hotel. ChrisBro COO, Mark Aftanski, says members of his company have worked with Homecrest previously. They highly recommended Homecrest as being able to set a high "standard" to match the Tru by Hilton brand.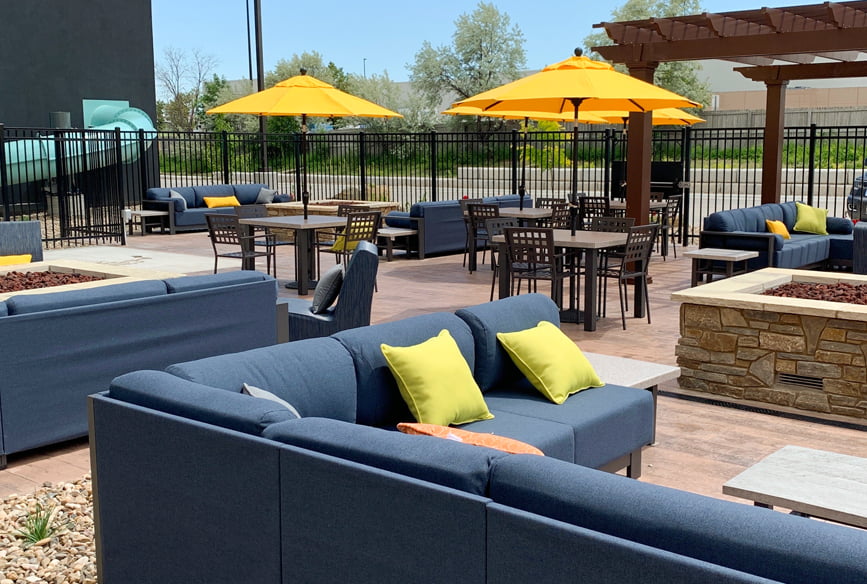 ChrisBro Hospitality's goal for this project was clear. Since they wanted the new Tru hotel to be the best lodging experience in Rapid City, the outdoor patios had to match this vision of comfort. This means the furniture they chose had to perform on multiple levels at once.
The primary consideration was visual appeal. According to Aftanski, ChrisBro Hospitality wanted to make sure the outdoor space had a timeless allure. It had to appeal to multiple age groups and bring travelers back in the future. In addition, the furniture pieces had to be appealing to current design sensibilities, while also not becoming dated over time.
Providing a luxury patio experience also requires seating that offers a high level of comfort. Therefore, the furniture that ChrisBro Hospitality chose needed to be comfortable and durable enough to ensure this comfort (and its visual appeal) would last.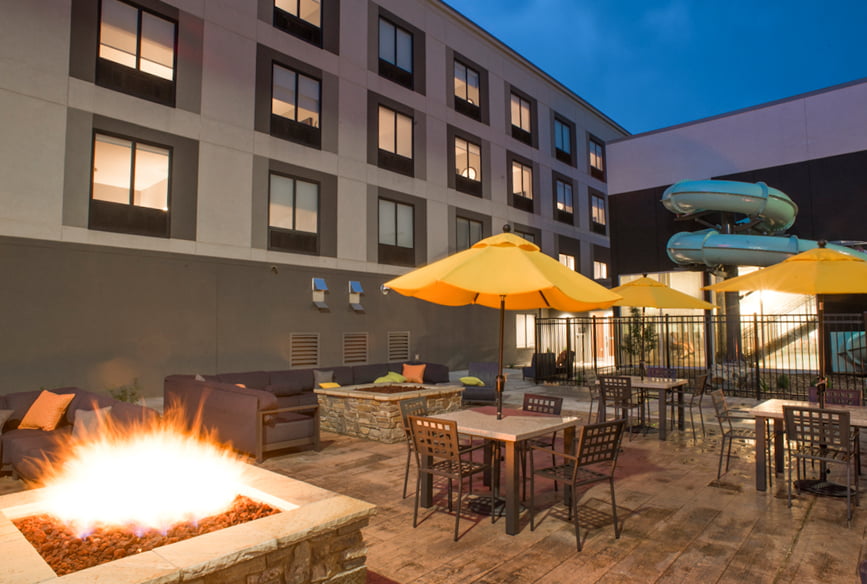 One of our strengths at Homecrest Outdoor Living is our ability to blend vintage design references with contemporary sensibilities. Because of this, we were the natural choice for furnishing this new Tru's outdoor space.
The completed patio has sophistication that comes from clean lines and carefully planned color blocking. Further, the design's features actually match the blue and yellow accent color blocking on the Tru building's siding. Additionally, this adds an extension of the aesthetic. The finished effect is evocative of the Neoplasticism art style from the early- to mid-1900s. Indeed, this style laid the groundwork for modern minimalist styles prevalent in millennial interior design today.
Neoplasticism is extremely pleasing to the eye because of the sense of balance and order it creates by using only horizontal and vertical lines of movement. Further, it sticks to only a few distinct colors and frames these colors with neutral greys, blacks, and whites. The result of these clear composition choices is a style that maintains an enduring appeal in the 21st century. Homecrest achieved this totemic visual style in the Tru's patio area through key pieces selected from some of our popular collections.
First, Homecrest lays down a neutral and structured base with our Manhattan café chairs, Air collection chat chairs, and Natural Series tables. The easily stackable café chairs have a seat and back constructed with a simple grid pattern using wide lines. Surely, this design helps keep them from looking too busy. The frame finish chosen for these chairs (as well as all other pieces on the patio) is our neutral dark grey: Carbon.
Our Air collection chat chairs, with their dark, neutral sling fabric, are complemented by the dark hues on the table bases. The occasional café tables feature our clean, rectangular Slate tops in our light grey Drift color. The combined effect of these neutral tones and grid shapes is something evocative of the paintings by foundational Neoplasticism artist, Piet Mondrian.
These chairs and tables are essential to achieving this desired style. The full look comes alive from the color story built by Homecrest's Grace cushion and Grace modular collections. These versatile pieces are available in many different orientations, as well as sizes. Additionally, they feature a boxy cushion shape and rich navy color that matches the Tru's siding design. This gives a nod to Piet Mondrian's iconic color blocking.
What gives this outdoor space a modern twist is the coral, yellow, and lime pillows. For instance, they accessorize Grace's sofas and sectionals, along with the cheery yellow umbrellas that adorn the Slate tables. The Neoplasticism art typical in the 20th century used only primary colors for the visual balance it creates. Although, this color choice also dates it. Meanwhile, Rapid City's Tru paired the primary colors of blue and yellow with carefully selected secondary colors. This brings their style into the modern era. Other outdoor furniture companies may be able to emulate vintage design in some collections and match modern trends in others. Although, it takes an exceptional company like Homecrest Outdoor Living to achieve both in a cohesive vision.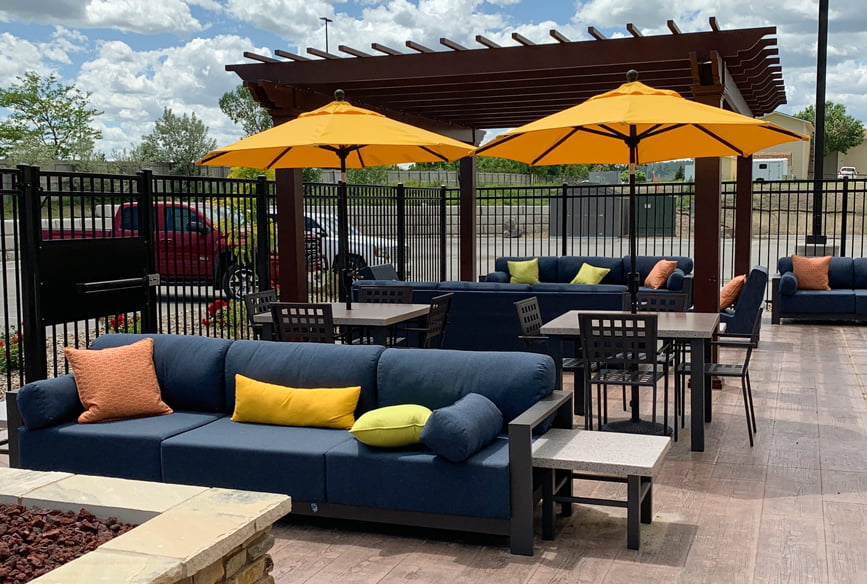 ChrisBro Hospitality is pleased with the finished project and hopes to collaborate with Homecrest on future projects. Aftanski says that Homecrest is, "very easy to work with—a very professional company that aligns well with ours." We were happy to collaborate with ChrisBro Hospitality to make this new Tru hotel suit the Tru by Hilton brand.
The new patio space is a success on many different levels, besides its inherent visual appeal. Aftanski explains that one aspect of our Homecrest pieces that he is most satisfied with is that they are durable and easy to maintain. This is not a surprise, considering Homecrest Outdoor Living's weather-resistant and antimicrobial materials make us a favorite of health and hospitality industries.
Rapid City's Tru guests seem grateful for the finished patio, too. According to Aftanski:
They love it, there was not a single evening last summer where you would not find families or friends enjoying a fireside beverage while creating some [real] summer memories on our patios!

He says his favorite part of the area is that it helps set the new venue apart from other hotels in the region. Through Homecrest Outdoor Living, Rapid City's Tru by Hilton has an outdoor space that captivates through its lasting style.
Whether it's a backyard patio or rooftop dining application, Homecrest has the perfect collections to suit your needs.
For homeowners seeking to furnish their outdoor space, visit our residential website to view current collections and find a dealer near you.
For contract and hospitality projects, visit our commercial website to see your options and find a contract sales representative in your area.