Imagine visiting a picturesque mountainside outdoor space somewhere in Northern California, near Redwood National Park. The mountains are monolithic and cut through the sky with a majesty unseen anywhere else. Most importantly, the evergreen forests blanket the ground in a deep green and fill the air with a freshness. Additionally, proving the earth can be more beautiful than you had ever imagined. This is a feeling like no other. When you want to capture this feeling and take it with you to your own outdoor space, Homecrest is here to make that dream possible. With our most beautiful Natural Series table and fire table style: Timber Tops.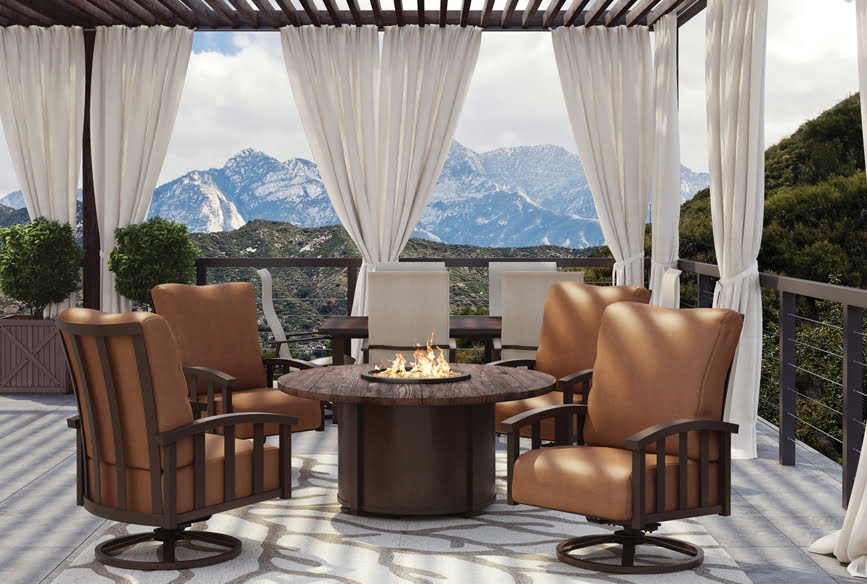 Cast from reclaimed wood, our Timber tops collection hosts a rustic, slated-wood top. Additionally, bringing a little bit of nature into your outdoor space. Using our construction processes, this pastoral style is achieved. Meanwhile, still maintaining the performance and durability of all other Homecrest products. Available in a variety of color choices, Timber tables and fire tables are the perfect addition to your Homecrest collections.
Whether it's a backyard patio or rooftop dining application, Homecrest has the perfect collections to suit your needs.
For homeowners seeking to furnish their outdoor space, visit our residential website to view current collections and find a dealer near you.
For contract and hospitality projects, visit our commercial website to see your options and find a contract sales representative in your area.