Homecrest is always working on exciting projects to bring a touch of elegance and hospitality to your outdoor spaces. We were so excited to show them off at Minnecon! Here are some of our highlights from the convention:

It's difficult to describe the subtlety of design and the many variables that go into creating a truly elegant outdoor living experience. How do you define the attention to detail that takes a simple piece of furniture and transforms it into something that makes an outdoor space captivating? The answer is, you'll know it when you see it. We certainly see it in our Elements cushion and air collections, and we hope you do too.

Elements air finds the ideal balance between smooth curves and contrasting lines of action. This collection features the appearance and comfort of deep seating in a foam-free, cushionless construction. Luxurious Sensation sling fabric is used for the ultimate in low-maintenance comfort. Additionally, it features benefits such as exceptional shape retention and surface memory. It is also available in multiple frame finish and fabric combinations. This collection will take on the style of your outdoor space and effortlessly elevate it into elegance.
With our Elements cushion collection, you'll never have to sacrifice style for comfort again. Elements cushion takes the visual notes of our air collection and remixes them with a comfort-conscious design. Unlike conventional foam, our DreamCore™ cushions are made with a high elasticity to maintain shape and a luxurious seating experience.
There's something restoring about gathering around a campfire with good company and taking in the warmth, watching the flames dance in ochres and golds, and allowing yourself a moment to just breathe.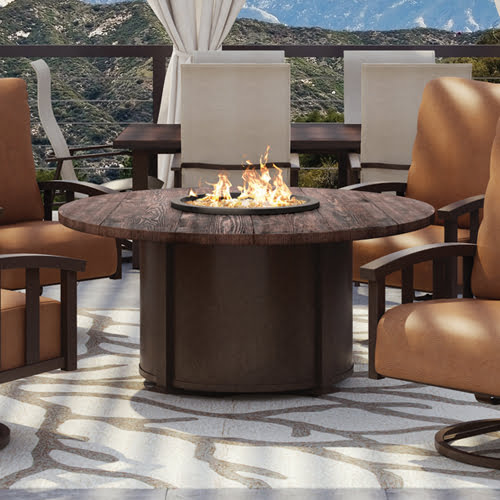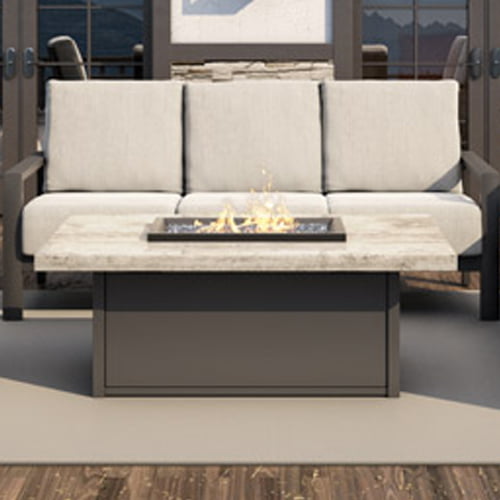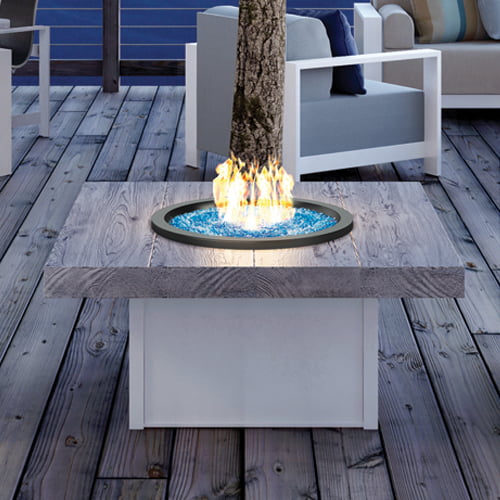 Homecrest recognizes that a good, old-fashioned campfire taps into some far-flung part of ourselves—that's why we've found a way to bring that uplifting power into any outdoor space with our practical fire tables.
At Minnecon, you got the chance to see just how many benefits our fire tables have through our Timber fire table on display. Cast from reclaimed wood, 
our Timber style brings a spark of nature to your spaces with incredible realism. Not only that, but we design our materials to last, soldiering through the roughest weather Mother Nature can cook up. And of course, every fire table is easy to operate and comes with built-in safety measures so that you can let them brighten up your customers' days worry-free. Homecrest is proud to bring elegance and hospitality to your outdoor space.
Whether it's a backyard patio or rooftop dining application, Homecrest has the perfect collections to suit your needs.
For homeowners seeking to furnish their outdoor space, visit our residential website to view current collections and find a dealer near you.
For contract and hospitality projects, visit our commercial website to see your options and find a contract sales representative in your area.